THE ONLY DIFFERENCE BETWEEN DREAMS AND ACHIEVEMENTS IS HARD WORK!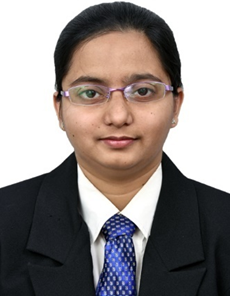 Dr. Luhar Salmabanu Isamilbhai is born on 17 August, 1986 in India. Presently, she is a Postdoctoral Researcher in Taiwan. By the grace of Almighty and blessings of Dr. Luhar's parents, mentors, co-authors, professors, publishers, teachers, elders, seniors, and of course, lovely joint Sunni Muslim Hanafi family members to whom she wishes to thank at this moment for their kind support and believing her as an original thinker, energetic, enthusiastic, talented, dynamic, diligent, passionate, courageous, intellectual, punctual, work-alcoholic, hardworking, simple natured with a smile on charming innocent face and a habit of initiative-taking, possession of high ethical standards, having great thirst of depth knowledge, young, very bright and intelligent Indian female researcher cum inventor (Woman scientist) cum author. Her upbringing was privileged in values and depth of life and knowledge. Traditional at heart, she personifies Indian cultural values to the core, while enjoying the lifestyle of a professional lady. She is a normal, simple, slim, humble, soft-spoken, never married, very fair, dynamic, highly talented, healthy, world record holder young lady with pleasant personality and ample courage to work in a male-dominated STEM field of concrete technology with great self-confidence. In addition, she is loyal, trustworthy, work committed, well-organized, thorough, an original independent innovative thinker, friendly getting on well with people at all levels, with sophisticated demeanor possessing so many academic and professional achievements to her name. She is an obedient fellow having an impression as goal-oriented and meticulous knowledge of the topic to study. She is not only gifted by Almighty and dedicated technically strong active researcher cum inventor scientist who has contributed substantially to challenge area of the STEM with ample courage and strict discipline to work on researches but also an author who writes in a lucid language with a great understanding of the subject. She is an avid reader of professional and religious Holy books and has published extensively on topics of her expertise in the form of articles and a book as an independent author, published from Germany, Europe. She has worked in a well equipped, modern, excellent, cement concrete research lab and possesses outstanding lab skills making her familiar with all modern instruments and equipment to work on conventional and Geopolymer composites and Geopolymer cement. She thoroughly enjoys working in a laboratory and employs the latest technologies and methodology to conduct experiments. She favors an original, meaningful and quantitative but at the same time qualitative research works employing ultra-modern techniques to benefit humanity. She knows English, Hindi, Urdu, Rajasthani, Gujarati, French, and Arabic languages with proficiency. Her past and future participation in national and international conferences, webinars, seminars, workshops, short-term courses, training, and events as well as Geopolymer camps have increased more opportunities to deliver expert speeches as a keynote speaker and to make herself fit for the postdoc researches program. She has attended a total of 14 conferences, seminars, workshops, and short-term courses so far. Her skill in a computer-aided structural analysis is excellent along with enough required computer skills for her specialty. She has an ability for mentoring responsibilities and believes in team building. She is able to travel on research trips, conferences, seminars, and events related to her field with excellent public speaking and workshop facilitation. Dr.Luhar has contributed significantly in the area of High-performance concrete, Geopolymer composites, and development of diverse Geopolymer concrete using dissimilar wastes. Her contribution to Fly ash based Geopolymer composites has added a new dimension in the area of non-conventional green binder material using waste and is acclaimed internationally. She is a recipient of awards viz., "Young woman in engineering for initiative and development in the field of Civil engineering". This award recognizes the best-brightest-inspirational-talented woman who demonstrated excellence in her discipline. Moreover, she has been also honored with the awards of "Innovation strategy leader in the education of the year 2018" and "best researcher award2018," as well as "highest research paper publications award in concrete technology by a woman researcher". She has visited the foreign university for research where she invited to present a paper in international conferences apart from her research activities. For instance, in last August 2018, she was appreciated with the honor of "Best presenter" in an International conference organized by the University of Malaya, Kaula Lumpur, Malaysia. She has a great concern in her heart about the common man and the global problems adversely affecting the existence of lives. She desires to contribute for keeping the environment fresh and to invent novel types of more cheaper and sustainable building materials for affordable housing for common man and infrastructures. She is desirous to free the highly fertile extensive landfilling by the wastes for agriculture purposes through organized consumption of it in manufacturing the best geopolymeric building materials. She is an influential engineering doctorate. Her strong skills, doctorate research work, the filing of Indian Patent, the award of a Government project, master's level dissertation work, authored book and articles, experience, and first-class distinction academic qualifications are centered on the same field. Doctorate research work of Dr.Luhar is commented as "the significance of the research is obvious this research work is very meaningful and "the reviewer reckons the author of this thesis has good capacity to carry out the independent research" " by the thesis examiner. Another examiner of Ph.D. thesis reported that "the work is presented in beautiful continuing flow pattern having very good connectivity with every next part. The lucid language makes the reading less time consuming and easy to understand for everyone referring to the work".
Last but not least, Dr. Luhar's biography is included in Marquis Who's Who, U.S.A. for the top 3% professionals of the world. More than 58 articles majority of which are in impactful journals/ conferences and four books are in her name. She is working as Editor in Chief with two journals namely, Research Journal of Concrete and Geopolymer Technology as well as Researches in Civil Engineering, both from USA publishers. Also, she appointed as an editorial board member, to name a few, in American journal of construction and building materials, Science and technology publisher, U.K., etc. To list a few awards to her credit like "Albert Nelson Marquis Lifetime Achievement Award 2018", USA.; "Best Academic Researcher Award" U.K.; Young Scientist Award, Bangkok", "Diploma of Gold Medal for invention, Romania", "Diploma of Silver Medal for Best project," Sir C.V. Raman lifetime achievement international award"; Sir Vikram Sarabhai Life Time Achievement International Award"; a nomination for the "Padma Shri Award" which is renowned as the fourth highest civilian award a citizen of India; along with number of other national and international grants from Indian ministries, records and awards such as " Best research paper"; "Best doctorial thesis"; "Best M.Tech thesis"; "Distinguished researcher"; " Best Researcher";"Outstanding Contribution in Reviewing, Elsevier", etc.
Marquis Who's Who, USA Biography
Dr. Ms. Luhar Salmabanu Ismailbhai Celebrates Numerous Achievements and World Records
in STEM field of Concrete Engineering as a Young woman of only 32 years!
Dr. Ms. Salmabanu Ismailbhai Luhar, researcher, inventor, has worked for a research project in the Department of Science and Technology (DST), Ministry of Science and Technology, New Delhi (Government of India) as Principal Investigator under "WOMAN SCIENTIST" scheme.
JAIPUR, INDIA, September 24, 2018, Dr. Ms. Luhar Salmabanu Ismailbhai, a young woman scientist, has been included in Marquis Who's Who. As in all Marquis Who's Who biographical volumes, individuals profiled are selected on the basis of current reference value. Factors such as position, noteworthy accomplishments, visibility, and prominence in a field are all taken into account during the selection process.
With years of experience of academic and research to her credit, Dr. Ms. Luhar has worked as a researcher and invented an Indian Patent in civil (Structure) engineering for the Malaviya National Institute of Technology. An eco-friendly scientist with passion for researching low-cost, sustainable, durable and eco-friendly construction materials for the betterment of mankind, she additionally holds the positions of an approved valuer with the Institution of Valuers and a chartered engineer for the Institution of Engineers, of which she is also an associate member. Previously, she served on the positions of assistant professor and principal coordinating supervisor for the Gandhinagar Institute of Technology in 2013. Dr. Luhar's career as a postdoctoral researcher for esteemed universities around the world, either in Canada, or Australia or China or Malaysia is just about to begin as they have approved her proposed advance research plan in the field of concrete technology.
Before embarking on her professional path, Dr. Luhar pursued an education at the Government Polytechnic Dahod, earning a diploma in civil engineering. She continued her academic efforts at Nirma University, obtaining a Bachelor of Technology in engineering, with honors, and a Master of Technology in engineering, with honors. She concluded her studies at the Malaviya National Institute of Technology, graduating with a Doctor of Philosophy in civil (structure) engineering. Following these accomplishments, Dr. Luhar accepted Doctor of Letters from the University of Asia, North Korea, and the International Economics University for SAARC Countries.
Beyond her responsibilities within the field, Dr. Luhar has participated in numerous endeavors outside of her professional circles. She has notably completed a basic course in the French language in the department of humanities and social sciences of the Malaviya National Institute of Technology as well as summer training for pre-engineering building in the Kirby Building System, Ltd., in 2012. A presenter at many conferences within her industry, Dr. Luhar also holds an Indian patent for "fly ash-based geopolymer concrete incorporating rubber tire fibers as partial replacement of natural sand thereof useful for construction and infrastructure industries," which was published in 2018.
Dr. Luhar found success with her written works as well, having authored 43 published/ communicated to publish articles of which 31 articles for reputed high impact international journals, such as the Journal of Building Engineering, Journal of Australian Ceramic Society, Iranian Journal of Science and Technology-Transactions of Civil Engineering, Environmental Science and Pollution Research, Cement Wapno Beton, Journal of Engineering and Technology, Indian Concrete Journal, International Journal of Civil Engineering and Technology, International Journal of Research In Civil Engineering, Architecture & Design, the Journal of Civil Engineering Research, the SSRG International Journal of Civil Engineering and the International Journal of Engineering, Research and Applications, among others. Contributing on the editorial boards as well as reviewer for a number of international publications, she was appointed as the guest editor for a recent edition of the Journal of Civil Engineering Research. In addition, 12 research articles in reputed International conferences have also been published. Likewise, Dr. Luhar penned her first book as independent author in a lucid language on, "Fly Ash and Slag-Based Geopolymer Concrete – Experimental Facts," in 2016, which was released by Lap Lambert Academic Publishing in Germany, Europe. Just recent, Dr. Luhar's promulgated second book on "Green Concrete: Incorporation of E-Wastes – a green concept", ISBN: 978-620-2-31939-3, Scholars' Press, Latvia, Europe, in 2018.
In addition to her primary vocation, Dr. Luhar remains affiliated with various organizations in relation to her areas of expertise. She maintained involvement as an associate member for the Asian Concrete Federation, the India section of the American Society of Civil Engineers, the Indian Road Congress and the Institutional of valuers. Dr. Luhar is also a lifetime member of the American Concrete Institute, the Indian Concrete Institute and the Indian Society of Technical Education.
In light of her exceptional undertakings, Dr. Luhar has accrued many accolades throughout her impressive and inspirational career. In 2018, she was presented with both the Best Researcher Award from the DK International Research Foundation and the Young Woman in Engineering Award from the Venus International Foundation. That same year, she is bestowed with the prestigious award of "Albert Nelson Marquis Lifetime Achievement Award 2018" for her hard work and dedication to her profession from USA. She was recognized as a finalist nominee for the Best Academic Researcher Award by the Association of Scientists Developers and Faculties, London, U.K. and she also representing nomination ID 201942841/ 15.9.2018 for the Padma Shri Award for the Government of India, the latter of which is renowned as the fourth highest civilian award a citizen of India can receive to recognize "work of distinction" for distinguished and exceptional achievements in the fields including science and technology. Her work was additionally cited as the Highest Research Paper Publication by a woman at the age of 31 years in concrete technology by the International Women Researchers Connect and Awards in 2018.
Moreover, Dr. Luhar was recently honored as the Best Presenter by the International Conference on Concrete Engineering and Technology at University of Malaya, Malyasia and an Innovative Strategy Leader in Education by UBS Transformance. From the Government of India, she has received grants from the Ministry of Science and Technology and a research fellowship from the Ministry of Human Resources and Development during her research project and doctorate program respectively. However, Dr. Luhar is perhaps most noteworthy for the multiple world records she has attained during her career thus far, including two records in Assist World Records, one record with the official world record (OWR), Spain; one record in the United Kingdom Registry of Official World Record, one record in the International Books of Record, one record in the Asia Book of Records, and one record in the India Book of Records.